Experience Ford's F150 SVT Raptor!
When Ford asked if we'd review the F150 Raptor, I had to say yes. Dear hubby had been talking this truck up for ages and so was half of his staff! I was well versed in why one might love a Raptor, but I hadn't even seen one for myself until I picked the Raptor up. It was definitely stylish. A deep orange colour with decal package on the exterior, and black and orange leather interior. It was hard not to fall instantly in love with it. And... the power underfoot was insane! (411hp to be exact!)


I had to make a stop at the grocery store on the way home with the Raptor and was not prepared at all to be harassed questioned about this truck. After all, I had barely had the chance to drive it! When I came out of the store, there were two men drooling over the machine. I asked if they'd like to look inside and well sheesh-- It was just like I had asked them if they'd like a million dollars. Tongues wagging, these men were completely gaga over the Raptor.
That was only the beginning of a long week of men drooling over the Raptor. I could lie to you all and say that they first were drooling over me, then the truck... but I'd really be telling stories. Every day at preschool pickup, there were more questions about the Raptor and more waiting around while men took the Raptor for a spin! I'm pretty sure Dads picked their kids up that week, just for a shot at the Raptor. One lady friend loved driving the Raptor so much that WOW was all she could say. Wow!
Okay, so men and women alike are totally in love with the F150 Raptor. Its Baja'd exterior/interior was only half of the attraction. I quickly learned that most lovers of the Raptor also had an affinity for off-roading or Atv'ing. This truck fit their lifestyle to a 'T'. Equipped with front and rear heavy duty skid plates to protect the undercarriage and a front-end camera to see what is upcoming, Ford has put some thought into what its users require and want. The Raptor was also equipped with Fox racing shocks for ultimate comfort on your off-road adventure.
I know what you are thinking... a truck with 411-Horsepower HAS to be terrible on gas? It wasn't at all. When the hubby took the truck on a long-haul drive, he reset the gas mileage and eeked out 14.5 litres per 100kms. Not too shabby and certainly, no different than most SUV's.
Check out our wood hauling adventure in the Canadian Rockies!
(Please note: We do have a permit.)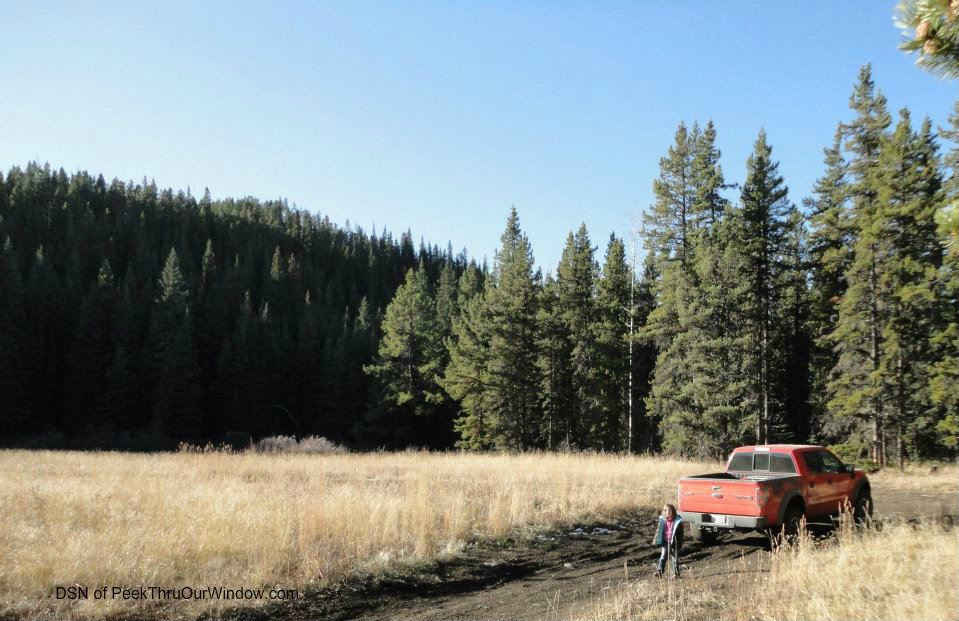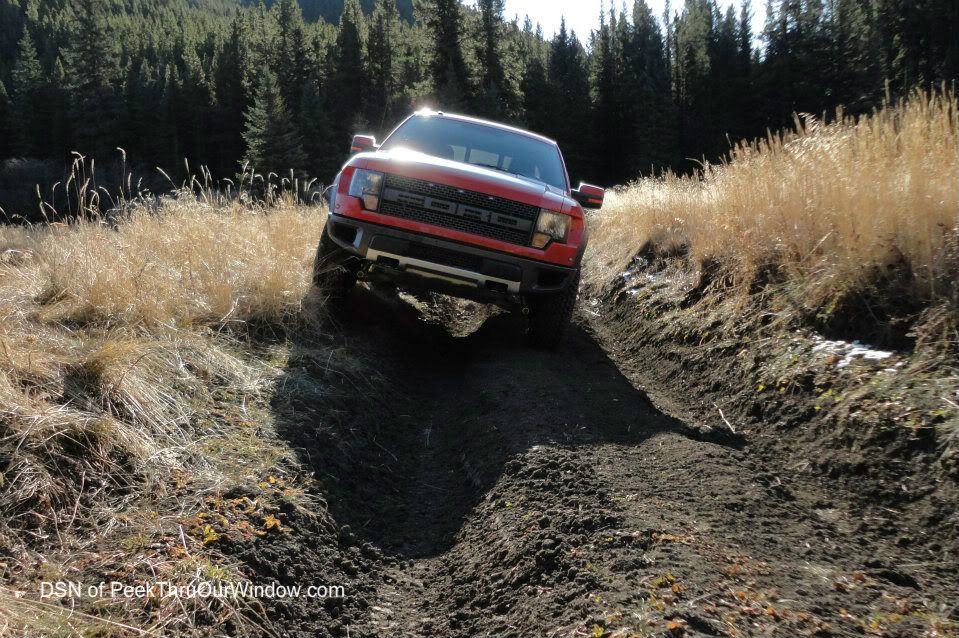 What a fun, multipurpose- do - anything type truck! We drove the Super Crew edition and had no issues with room in the back seat. Two of three seats were carseat compatible, with more than enough leg space for adults to sit comfortably. If you're looking at buying a truck, you should definitely put the 2012 Ford F150 SVT Raptor on your list of 'must drives'! Hard tested in the landscapes of Baja, Canadians would enjoy this truck- inside and out. Useful. KickAss.
Come on, have a FORD adventure!
*Peek Thru Our Window was provided with a F150 SVT Raptor for the purpose of this review. We did not keep the vehicle of course. *